Top 3 Healthy Picks
When one comes in to a wing bar the last thing you expect to order is something healthy. I mean come on, right? Why not indulge into some loaded cheese fries and twelve — or should I say — eighteen piece wings. However, with the new year here you swore you'd eat healthier to get closer to having that beach bod. Well no worries because Bayou City Wings® has your back. This week we're featuring our top 3 healthy picks that fit anyone's taste buds.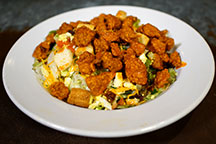 1. Not a fan of a traditional salad or want to treat yourself on cheat day without feeling the guilt right after? Well have we got what you're looking for! The Bayou Salad is our number one selling salad and it's no surprise why. It's basically eating boneless wings with more than your daily veggie requirements. Therefore, according to our calculations, it evens out, right? Just ask Professor Bayou if you don't believe us. The salad is made up of grilled, or fried, tenders on lettuce, bacon, egg, tomato, cucumber, cheddar and croutons. With over one million ways to sauce your tenders you'll never get tired of this entrée.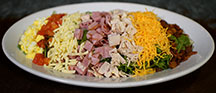 2. Our Club Salad is our second most popular salad that our customers love to order. This meat trio entrée features bacon, turkey, ham, lettuce, tomato, egg, monterey, and cheddar cheese. We have 8 dips to choose from to give it your own twist: Bayou City Wings Sauce, Butter Sugar, Creamy Cilantro Lime, Blue Cheese, Buffalo Ranch, Jalapeño Ranch, and Mango Habanero Ranch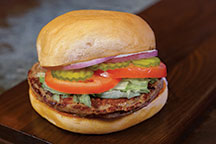 3. Last — but not least — is our Turkey Burger. Yes, Thanksgiving has passed, but trust us this burger tastes nothing like those leftovers. Although Turkey Bacon is usually dry we assure you this patty is juicy. Served with a side of fries the burger includes the turkey patty, lettuce, tomato, mayo & pickles on a whole wheat bun. If you're dead-set on your diet you can substitute those fries with broccoli & carrots or black beans.